How to use approved contractors:
After you file a claim with VYRD, HOMEE will work to set up the inspection of the property damage reported. A HOMEE Pro writes the estimate and once approved by VYRD, repairs can be scheduled to begin. Payments will be sent directly to HOMEE, who takes on the responsibility of managing the repairs and payment disbursements through to the conclusion of the repairs.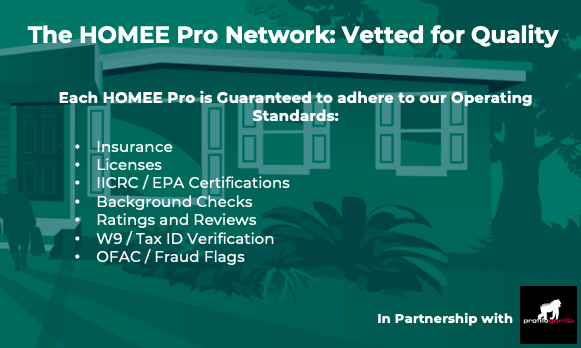 Reasons to Use the Preferred Contractor Network
Our Management
HOMEE oversees the progress of repairs for customers until the work is completed to customer's satisfaction.
Our Quality Network
Our vetted network of highly rated local Pros are dedicated to the quality of your repairs.
Our Warranty
Our 5-year workmanship warranty guarantees that the job is done right, and is maintained for the foreseeable future. HOMEE always makes it right.
Our Speed
Timely repairs are governed by program service level agreements. We never leave you waiting on repairs.
Our Ease-of-Use
Easy Scheduling – HOMEE will call you to schedule your appointment and coordinate with your Pro.
Our Financing
No cost financing options to assist with deductibles, upgrades and repairs excluded due to policy coverage.